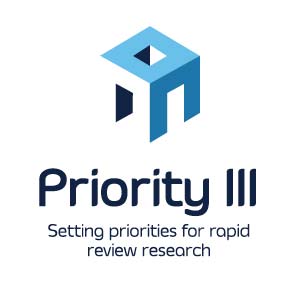 WHAT IS THE PRIORITY III STUDY?
The Priority III study identified research priorities about how to improve how we plan, do and share the results of rapid reviews in the context of healthcare.
The study used a priority setting partnership (PSP) based on the methods of the James Lind Alliance (JLA). The JLA (UK) brings patients, carers and healthcare professionals together in Priority Setting Partnerships. These partnerships identify and prioritise unanswered questions about healthcare that the public, carers and professionals jointly agree are the most important.
The PRioRiTy I and PRioRiTy II PSPs were focussed on uncertainties about how we do research and used a modified JLA approach. As Priority III project focuses on uncertainties of rapid reviews, we also use this modified approach.
We encourage research funders to incorporate the priorities that have been identified into their research strategy. We encourage researchers and research teams to use the priorities as an agenda for their work to ensure that work is being carried out to answer the questions that have been agreed by the public, carers and professionals as being most important.
The Priority III study has been funded by the Health Research Board (HRB, Ireland) and the Health and Social Care division of the Public Health Agency (PHA) of Northern Ireland within Evidence Synthesis Ireland (ESI).
WHAT DO WE MEAN BY "RAPID REVIEWS"?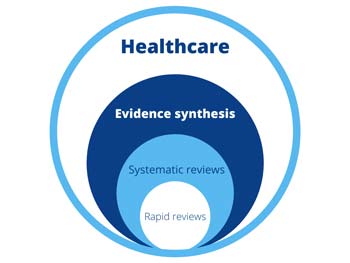 A rapid review is a type of evidence synthesis that brings together and summarises information from lots of different research studies to produce evidence for people such as the public, researchers, policy makers and funders in a systematic, resource-efficient manner. This is done by speeding up the ways we plan, do and/or share the results of conventional structured (systematic) reviews, by simplifying or omitting a variety of methods that should be clearly defined by the authors.
The rapid reviews that we refer to in this study are done in relation to healthcare.
For more information on what evidence synthesis, rapid reviews and this project, please watch this short video by clicking HERE.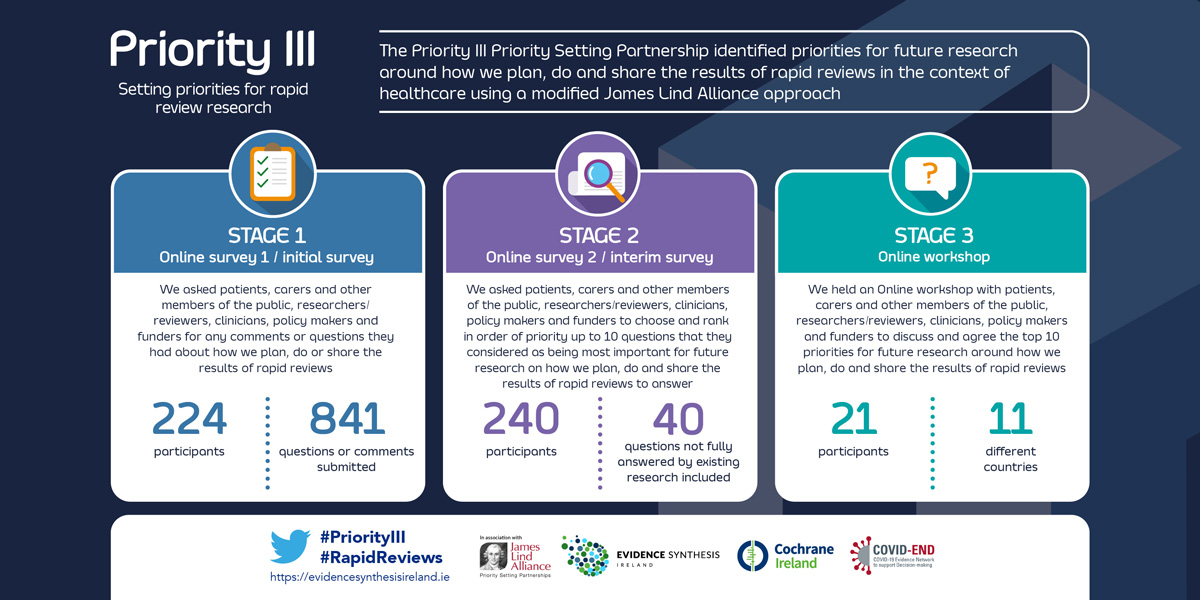 WHO DEVELOPED AND CONDUCTED THIS STUDY?
The study is governed by a Steering Group that represents the public, researchers, health professionals and experts in rapid reviews.
Name
Affiliation
Bio
Beccy Maeso
 James Lind Alliance (JLA)
Beccy leads the James Lind Alliance (JLA) based at the Wessex Institute, University of Southampton. The JLA brings patients, carers and clinicians together in Priority Setting Partnerships (PSPs) to identify and prioritise the Top 10 uncertainties, or unanswered questions for research.  We provide advice and guidance to groups wanting to initiate a PSP, and working with our JLA Advisers, we oversee the PSP method as set out in the JLA Guidebook, as well as undertaking a range of engagement activities with the research community.   The JLA represents a distinctive and influential model, capturing the voices of patients and carers, enabling them to work as equal partners with healthcare professionals to identify and prioritise evidence uncertainties and influence the future research agenda.
Caroline Whiting
James Lind Alliance (JLA)
Caroline works in the team that coordinates the James Lind Alliance (JLA) at the Wessex Institute, based at the University of Southampton.  Caroline supports people in starting new JLA Priority Setting Partnerships (PSPs) and works closely with the rest of the JLA team to keep on improving what they do.
Derek Stewart

Medical Research Council National Institutes of Health Research (MRC NIHR) Trials Methodology Research Partnership (TMRP)
A former teacher, Derek was treated successfully for cancer in 1995. He is an advocate for involving and engaging patients and the public in research. Derek is PPIE Lead for the MRC NIHR Trials Methodology Research Partnership and a member of the Advisory Group for Evidence Synthesis Ireland
Andrew Worrall

Andrew Worrall is a retired teacher and educationalist.  He has been involved with the NIHR as a lay member of a local research network board and a funding advisory board.  He is a co-applicant on a current surgical trial.  He is a writer and gardener and involved in music education, chairing a local charity and regional music education partnership board.
Jim Elliott
NIHR (National Institutes of Health    Research)
Jim provides leadership to the Health Research Authority on the involvement of patients and the public in health research [part time] as part of his work as an advocate for patients in research. He has been a carer for close family with cancer and other health conditions for many years.
Maureen Smith
 Cochrane Consumers Executive
Maureen Smith is the Chair of the Cochrane Consumer Executive and is involved as a patient partner in several research projects in Canada and internationally. Her diagnosis with a rare, chronic endocrine disease in childhood and many healthcare experiences have motivated her to serve on various committees and advisory groups in areas such as health technology assessment, rare diseases, patient involvement in the development of core outcome sets, and innovative clinical trials for rare diseases.
Theresa Tierney
Primary Care PPI Group, HRB Primary Care Clinical Trials Network Ireland
Theresa Tierney is a website developer, ecommerce manager, project manager, natural health blog editor and digital marketing consultant. She works with small to medium-sized businesses and organisations to most effectively communicate and market through a wide range of online mediums. She has been the project manager responsible for coordinating teams of diverse stakeholders from programmers and designers to business owners through to final launch. She has particular interest in the areas of health and environment.
Declan Devane
NUI Galway/Evidence Synthesis Ireland/Cochrane Ireland
Professor Declan Devane is the Director of Evidence Synthesis Ireland and Director of Cochrane Ireland. He holds the Chair in Midwifery and is Deputy Dean of the College of Medicine, Nursing and Health Sciences at NUI Galway. He is also Scientific Director of the HRB-Trials Methodology Research Network, and Principal Investigator with the INFANT – Irish Centre for Fetal and Neonatal Translational Research.

Declan trained as a nurse and a midwife, meandered (with the help of opportunity, interest and luck) his way into trial methodology and evidence synthesis and his work now focusses on a blend across midwifery (and broader maternity care), randomised trials and how they are done and synthesising evidence.

Claire Beecher
NUI Galway/Evidence Synthesis Ireland
Dr Claire Beecher is a postdoctoral researcher at Evidence Synthesis Ireland (ESI) and the Health Research Board Trials Methodology Research Network (HRB TMRN). She holds Bachelor's degrees in both Business Studies & Event Management (Limerick Institute of Technology) and Midwifery Science (National University of Ireland, Galway). NUI Galway awarded Claire's PhD thesis.
Elaine Toomey
University of Limerick
Dr Elaine Toomey is a Lecturer in the School of Allied Health in the University of Limerick. She is a Research Associate of Evidence Synthesis Ireland and Cochrane Ireland and a member of the Health Behaviour Change Research Group (National University of Ireland Galway). Until April 2020, Elaine was Associate Director of Cochrane Ireland within Evidence Synthesis Ireland and led the implementation of the Evidence Synthesis Ireland Fellowship Scheme. Elaine's research primarily focuses on methods used in the development, evaluation and implementation of health behaviour change interventions, particularly about chronic disease prevention and management. She has specific expertise in evidence synthesis, rapid reviews, implementation science/knowledge translation, process evaluation and exploring the fidelity/adaptation of behaviour change interventions.
Bronagh Blackwood
Queen's University Belfast
Dr Bronagh Blackwood is a Professor in Critical Care at the Wellcome-Wolfson Institute for Experimental Medicine, Queen's University Belfast. She is the President of the European federation of Critical Care Nursing associations and a Content Editor for the Cochrane Emergency and Critical Care Group.
Teresa Maguire
Health Research Board
Teresa has recently returned to the Health Research Board following five years as Head of Research Services and Policy at the Department of Health in Ireland. Building on her prior experience of supporting Cochrane in Ireland, clinical trials and evidence synthesis for guideline development, she managed an annual programme where rapid evidence reviews were prioritised and conducted to support decision making in key policy areas.
Melissa Kampman
Health Canada
Dr. Melissa Kampman is a senior epidemiologist at Health Canada. She holds an MSc in Chemical and Environmental Toxicology and a PhD in Population Health. Her training is in pharmacoepidemiology and pharmacovigilance. Her main areas of interest are population health, study design methodology for pharmacoepidemiologic research, drug safety and effectiveness, and regulatory policy and decision-making
Benny Ling
Health Canada
Benny Ling is a scientific reviewer for Health Canada. He has over fifteen years of regulatory toxicology experience in conducting human health risk assessments on a wide variety of substances including post-market reviews of pharmaceuticals, traffic-related air pollutants, industrial chemicals, natural health products and pesticides. He has been involved with several initiatives applying more systematic review principles into risk assessments.
 Sandra Aitcheson
Public Health Agency Northern Ireland
Sandra Aitcheson is Assistant Director of Nursing Adult and Older People's Services for the Public Health Agency in Northern Ireland. She has dedicated her career to specialising in the care of Older People holding a number of clinical, managerial and strategic posts including Nurse Consultant for Older People in the Public Health Agency, Nurse Advisor for Older People at the Department of Health and Director of Stroke Strategy Implementation Eastern Health and Social Care Board. Her current role involves leading from a nursing perspective the promotion of improved health and well-being for the adult and older population across Northern Ireland with an emphasis on formulation of strategies, commissioning, service improvement and professional development. Crucial in this role is creating the conditions which ensures both value and contribution of nursing and midwifery is maximised. In addition she is the professional lead for Frailty across the Public Health Agency.
Catherine Gill
Health Research Board (Ireland)
Catherine is a Programme Manager in Post Award and Evaluation at the Health Research Board (HRB), overseeing monitoring and evaluation of Projects, Programmes and Career awards. She has a particular interest in Research Integrity (RI), with responsiblity for implementation of HRB RI policy, and participates in the National Forum on RI, and European RI initiatives.
Patricia Healy
 NUI Galway
Dr Patricia Healy is a registered nurse and midwife currently working as a lecturer in the School of Nursing and Midwifery at National University of Ireland Galway (NUIG). Patricia's professional interests focus on neonatal and maternity care, quality, safety and risk management in healthcare, research methodology, clinical trials, systematic reviews, meta-analyses and evidence synthesis.
Andrew Booth

Sheffield University/ School of Health And Related Research (SCHARR)
Dr Andrew Booth is a review methodologist specialising in qualitative evidence syntheses, realist syntheses and rapid reviews at the School of Health and Related Research (ScHARR), University of Sheffield. His particular interest is in the use of theories, logic models and frameworks to enhance the conduct and interpretation of reviews. Andrew is a co-convenor of the Cochrane Qualitative and Implementation Methods Group and an ordinary member of their Information Retrieval  and Rapid Review Groups. He has published extensively on review methods and has contributed to methodological  guidelines for Cochrane and GRADE-CERQual.
James Thomas
The Evidence for Policy and Practice Information and Co-ordinating Centre (EPPI-Centre) & University College London
James Thomas is Professor of Social Research & Policy at the EPPI-Centre, UCL in London. His research covers substantive disciplinary fields – such as public health and education – and also computer and information science. He has written extensively on methodology for research synthesis, including methods for combining qualitative and quantitative research in reviews, and leads the Evidence Synthesis Facility for the Department of Health, England.
Chantelle Garritty

Public Health Agency of Canada
Chantelle Garritty is a Senior Epidemiologist with the Public Health Agency of Canada. Prior to this, she was the Senior Research Manager and Scientific Lead of the Rapid Reviews Program at the Ottawa Hospital Research Institute. For over 10 years she's been involved in conducting rapid reviews and related methods research to support timely decision-making. She is currently a Co-convenor of the Cochrane Rapid Reviews Methods Group, and an Advisor to Cochrane Response.
Andrea Tricco
Unity Health Toronto
Andrea Tricco holds a MSc in Epidemiology and PhD in Population Health. She is a Scientist and Director of the Knowledge Synthesis Team in the Knowledge Translation Program of the Li Ka Shing Knowledge Institute, St. Michael's Hospital, Unity Health Toronto. She is an Associate Professor at the University of Toronto in the Dalla Lana School of Public Health & Institute of Health Policy, Management, and Evaluation. She is also a Co-Director and Adjunct Associate Professor of the Queen's Collaboration for Health Care Quality Joanna Briggs Institute (JBI) Centre of Excellence at Queen's University.
Nikita Burke
 NUI Galway/Evidence Synthesis Ireland
Dr Nikita Burke is the Programme Manager for Evidence Synthesis Ireland, which includes Cochrane Ireland.  Prior to joining Evidence Synthesis Ireland, Nikita was the Development Manager for the HRB Primary Care Clinical Trials Network Ireland where she co-ordinated network activities, dissemination, and public and patient involvement in research. She has a PhD in Neuroscience from NUI Galway.
Ciara Keenan
Campbell UK & Ireland
Ciara is a Research Fellow in Campbell UK & Ireland. In this role, she is a Methods Editor and Information Retrieval specialist for the Campbell Collaboration and Co-Convenor of a global Information Scientist Network and a working group for overviews.

Ciara's methodological interest is evidence syntheses and she is motivated by capacity building which has led to her work as founder and Editor of the meta-evidence blog and Twitter's @evidencerobot and @COVID_Evidence. She has earned an established international reputation in evidence synthesis methodology and systematic review projects have demonstrated her expertise in the intersections of health, social welfare, disability, and education.

Christopher Gravel*

Health Canada
*Until Jan 2021

Matthew Westmore*

 NIHR (National Institute of Health Research) UK
*Until Jan 2021
Definitions
Evidence Synthesis – Evidence synthesis uses specific, rigorous methods to bring together information from multiple studies that have looked at the same topic and provide an account of all that is known about the topic. This definition has been adapted from the Evidence Synthesis International website, available HERE and the Evidence Synthesis Ireland video, available HERE.
Systematic reviews – A systematic review is a type of evidence synthesis that brings together information from multiple studies to help answer a clear question. It uses systematic and specific methods to identify, select and quality assess included studies, followed by the collection and analysis of information. Statistical methods (meta-analysis) may or may not be used to analyse and summarise the results of the included studies. This definition was adapted from Cochrane.
Healthcare – We define as being related to the treatment, control or prevention of disease, illness, injury or disability, and the care or aftercare of a person with these needs (whether or not the tasks involved have to be carried out by a health professional). This definition has been adapted from the UK Department of Health and Social Care guidance document titled 'National Framework for NHS Continuing Healthcare and NHS-funded Nursing Care' available HERE.