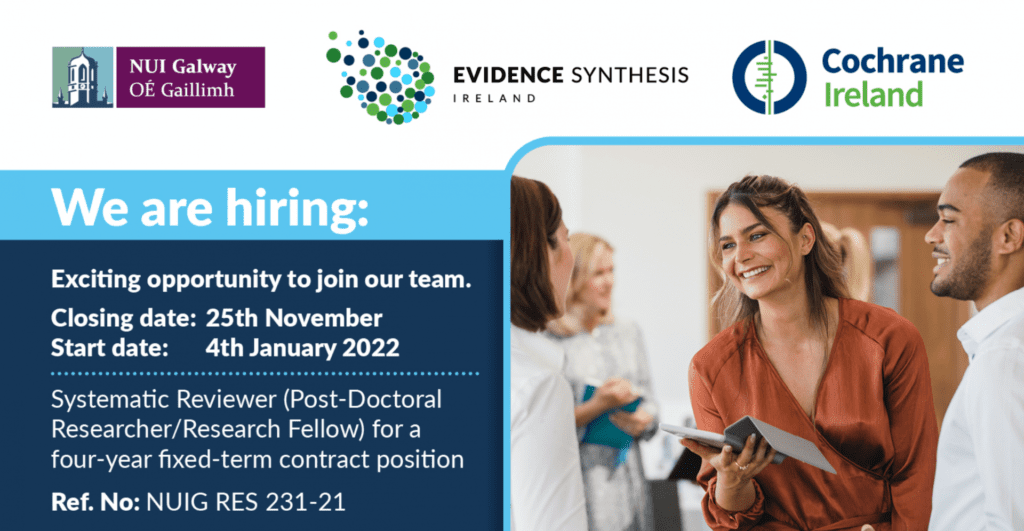 Evidence Synthesis Ireland (ESI) and Cochrane Ireland are recruiting a Systematic Reviewer (Postdoctoral Researcher or Research Fellow).
Contract: Four-year, full-time post starting in January 2022 until November 2025.
Institution: National University of Ireland, Galway.
About the role: The role is to plan, conduct and support ESI activity in relation to the co-ordination of prioritised national and international evidence syntheses relevant to policy and practice and integration of capacity-building into this activity. This role will require substantial evidence synthesis methodology experience and expertise as well as demonstratable evidence of leadership ability.
Salary: €46,442 to €50,529 per annum. Point 1- 4 (Postdoctoral Researcher scale)
€56,369 per annum. Point 1 – fixed (Research Fellow scale)
Start date: 4th January 2022
Closing date for applications: 25th November 2021.