Upcoming Webinar: Prof. Andrew Booth - Are we there yet? If, why, when and how to update a Qualitative Evidence Synthesis
02mar1:00 pm2:00 pmUpcoming Webinar: Prof. Andrew Booth - Are we there yet? If, why, when and how to update a Qualitative Evidence Synthesis1:00 pm - 2:00 pm ONLINE
Event Details

To register, click here

As qualitative evidence syntheses (QESs) become plentiful, and increasing numbers of authors contemplate the need to update their own QES, the need for more guidance on how to conduct an update becomes self-evident. Guidance exists for meta-ethnographies but examples remain few. Thematic synthesis and Framework synthesis lack formal guidance on updates and carry different considerations, particularly in view of the differing roles of theory and ever-vocal encouragement to consider sampling approaches. The presenter has been engaging with many of these issues while working on guidance for the forthcoming Cochrane Handbook for Qualitative Systematic Reviews.

He will start by taking the audience back to a consideration of why updates might be needed in the first place. He will then consider some of the indications for when (and when not) to update a QES, before outlining different models of update and rehearsing which of these models is most appropriate for each different type of synthesis. Issues of sampling and study richness will be briefly considered. Finally, he will conclude with current thinking on when reviewers might build on the pre-existing reviews of themselves and others such as the review of reviews (i.e. a review of multiple QES) and the living QES.  This session seeks to offer practical advice illustrated with plentiful examples.

Professor Andrew Booth, Professor in Evidence Synthesis at the School of Health and Related Research (ScHARR), University of Sheffield, has been a systematic review methodologist for almost 30 years. He specializes in qualitative, mixed methods, realist and rapid reviews. Andrew has conducted published international QES in such topics as infant feeding, child malnutrition and attitudes to child and adolescent obesity. Andrew is a co-developer of Best Fit Framework Synthesis, one of the widely used methods of qualitative evidence synthesis. He is also familiar with the other most common methods of evidence synthesis; thematic synthesis and meta-ethnography. Andrew has been a co-convenor of the Cochrane Qualitative and Implementation Methods Group (CQIMG) for over fifteen years and is a member of the GRADE-CERQual core development team. He has recently been co-authoring chapters in the forthcoming Cochrane Handbook of Qualitative Systematic Reviews. Together with colleagues in ScHARR he has been running an annual course on qualitative synthesis for over a decade. He is lead author of the textbook Systematic Approaches to a Successful Literature Review, now in its 3rd edition, published by Sage, 2021.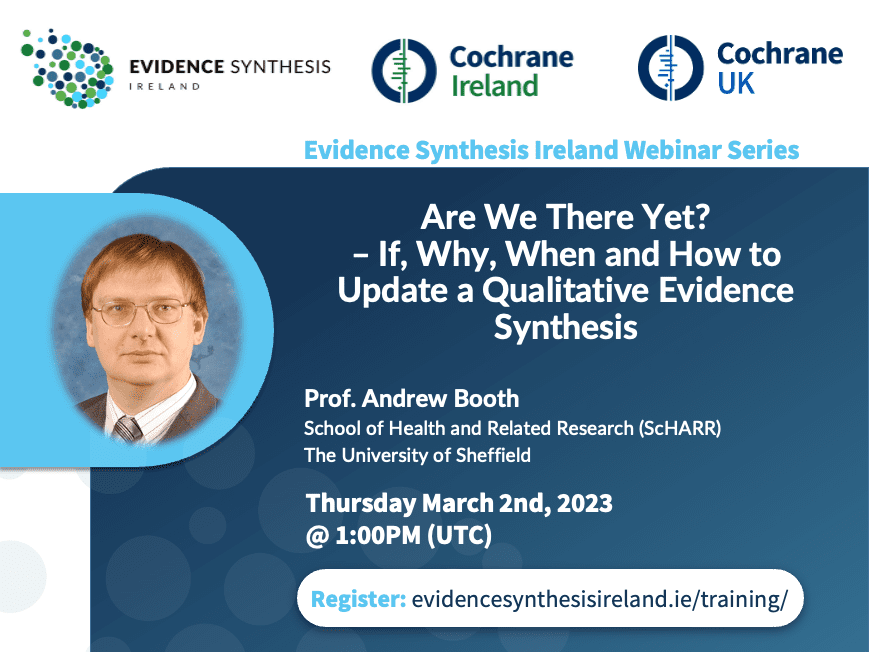 more
Time

(Thursday) 1:00 pm - 2:00 pm UTC